The great product like this right?
I will offer you the world's best method, efficient safe risk-free. This product it's doesn't cover-up. It's doesn't hide the old tattoo. It's doesn't camouflage. But it's can get rid color of the old tattoos the old colors will disappear. Super actual. As you can see in the picture and this video before and after. Those are amazing results.
On top of that, this product it's can tattoo remove and make new eyebrows immediately on the same day. I think it's just the superior method. As you can see it's already possible right now. And that's the real truth.
And absolutely, I have been successful and accepted long over 7 years you can find many of my previous videos the amazing results.
The results depend on the individual.
Please Note – "Before" photos (Not our work.)
How is it different between removing a tattoo and get a new eyebrow immediately and just remove and wait until the old color disappears and then make new eyebrows?
Answer: Because this technique is the safest and latest from ALJEE product.
1. Spend less time with each client and on treatment processes.
2. From the data and my experience tattoo removal and reshape new eyebrows immediately is an amazing technique that has better results and uses fewer times than other methods.
3. This way you can help the clients become confident as soon as possible and bring back a smile to everybody who has failed the semi-permanent makeup.
4. what's even better than is that clients get a new shape of brows right away.
5. this way is able to makeup easy. It takes less time to put on makeup.
6. Can reduce the stress of clients is faster. This is very very important and advantages when compared to remove the entire. I mean wait for it again and again. Because while waiting the clients are still stressed and worried about their eyebrows.
From the data and experience that it's has been successful and accepted for more than 7 years and in our clinic is over 90 percent choose to remove and make new eyebrows immediately on the same day.
Because we had plenty of examples of amazing results for clients to see. This is the answer to the question.
---
          So what we see in our clinics is that about 80 – 90 precent of our clientele have already been touched by another technician and they are either not happy with the shape color or if you get someone who's using low-quality inks and have already been covered up the old tattoo the ink can turn to purple, green, blue, or red hue after a few years. It's a complete nightmare scenario. it's actually pretty sad. 
          Because sometimes the shape or the placement of the permanent makeup just wasn't right or has starting drooping with age as the skin lost its firmness.Is because our face does change and as the tattoo is fading it will be shriveled. That's why they don't want the old color.
So yeah. Lots of reasons why people are wanting their permanent makeup removal nowadays. The problem with having permanent makeup especially in the eyebrows area is that If your technician is all too eager to get their hands on you, and telling you that they can just be covered up with another brow color. Then think again. Remember. Color doesn't cover color. You will find tons of the same tips over and over and over again or using acids to burn it off and using hot metal to burn your skin to death. Because all of these will hurt you and you will end up with scars and all of that will mess up your eyebrows forever. So don't do that. So that you don't end up with regrets afterward.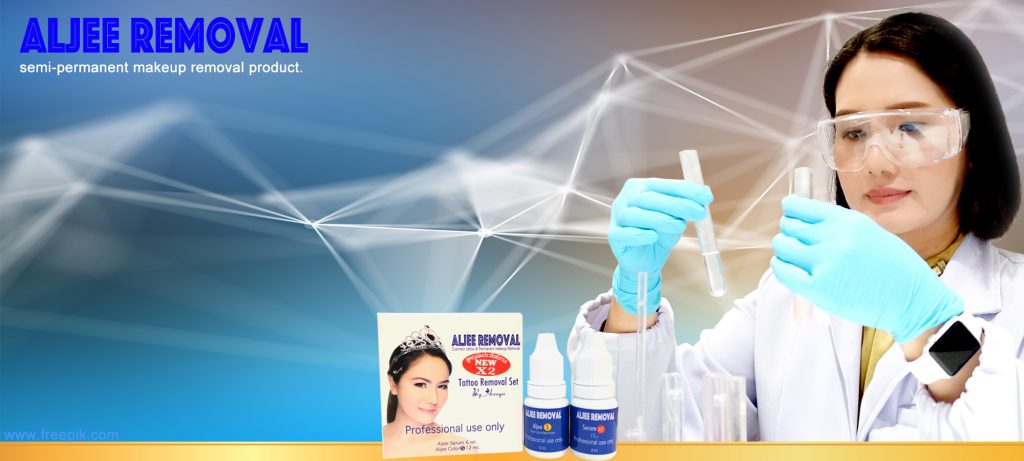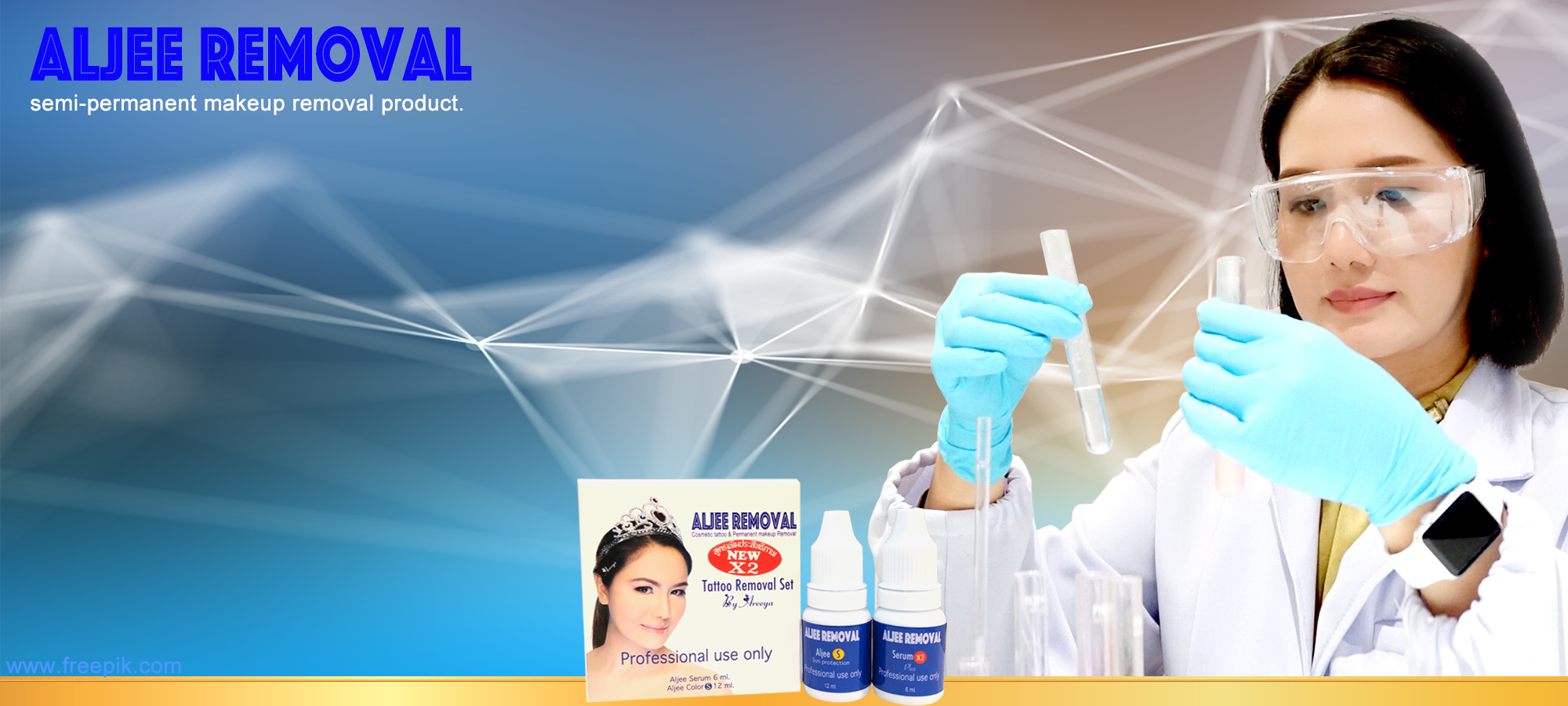 Make sure that technician has plenty of before and after correction work pictures for you to look. If you do manage to find professional Quality products. now that you've found it, it's ALJEE REMOVAL products. If you're considering.
          So these were some good techniques and the best product for you to correction permanent makeup done. the best advantage is that you don't have to hurt the brow skin. Hairs do not fall through. And on top of that after a tattoo removed can make new eyebrows right. You won't have any scars and the old color will disappear. I think it's a superior method. if you have eyebrows problems But not a tattoo artist. The Best way! that it's convenient for you. You can recommend this product to your country artist.
This product is for professional use only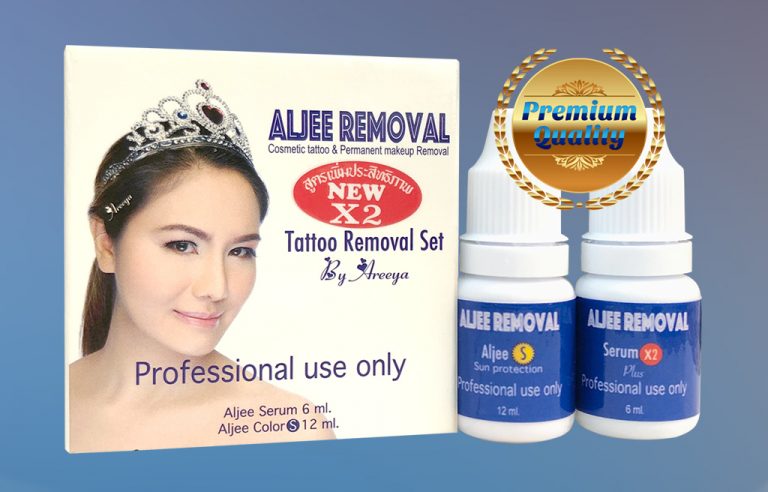 1 batch sufficient for up to 30 times*
*30 times. Its means a bottle can get you about 30 drops.
♦ ALJEE Serum contains (6 ml. ) you can get 30 drops,
♦ ALJEE S contains (12 ml.) you can get 60 drops.
They both need to mix together before using the ratio of 1:2 (Counting is 1 time.)
e.g.. AJEE Serum 1 Drop and ALJEE S 2 Drops mix together Counting 1 time.
(Main Set) 1 Box includes Aljee Serum 6ml.
+ Aljee S 12ml. total = 18 ml.
   The product need to use by a permanent makeup tattoo artists 
who has a business license in your country.
For those of you who already have the experience.
You're just basically offering a new service. 
So take advantage of this opportunity to increase your revenues. 
The most common questions.
How soon after getting a tattoo can I start the removal process?
3-4 weeks. It is recommended to wait at least 3-4 weeks after a new tattoo before having it removed as this allows time for skin to heal.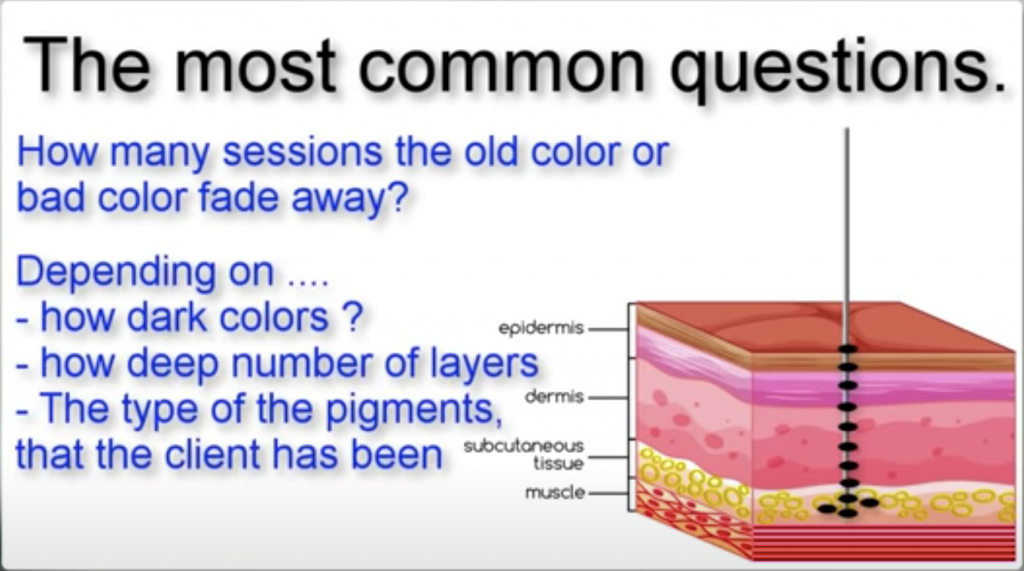 How many sessions the old color or the bad color fade away?…
Removal possibilities are different case by cases Depending on
From my experience the number of treatments.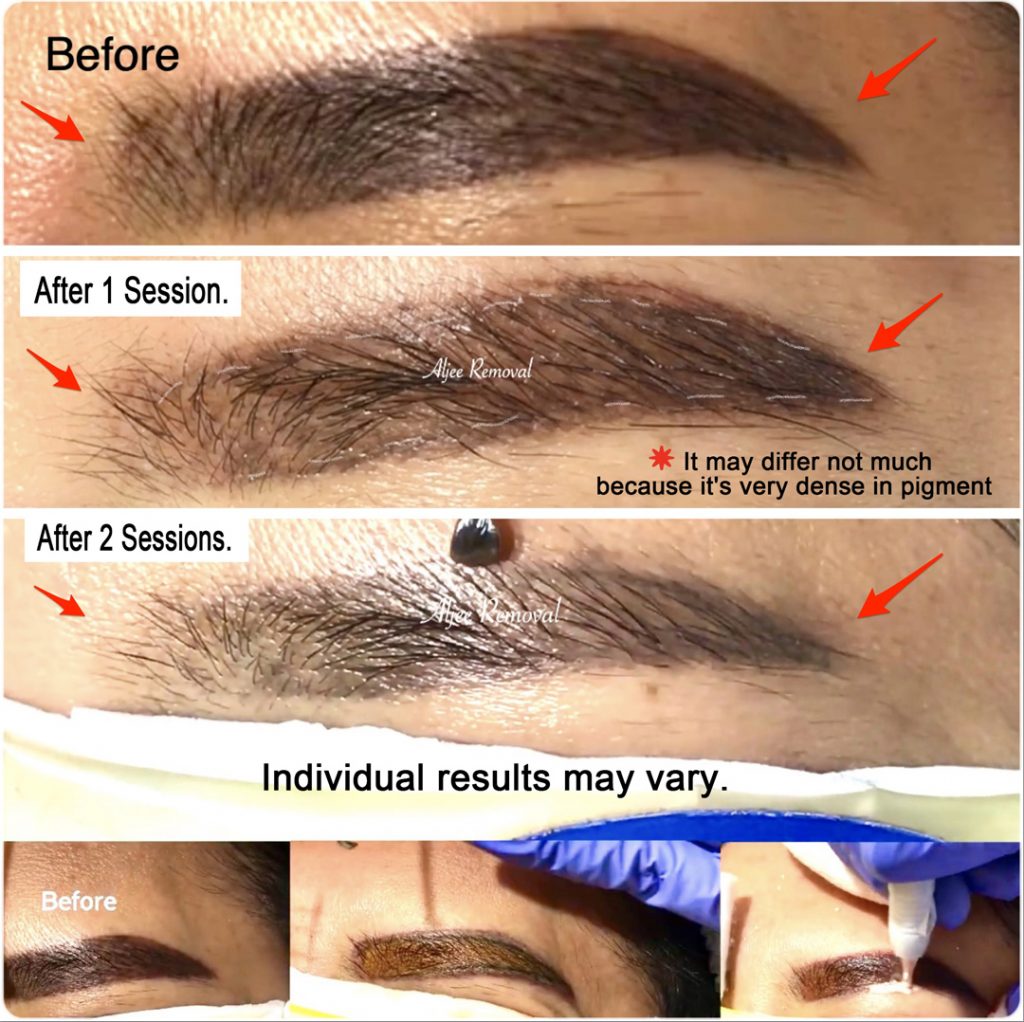 A case that the color is very density such as black or dark brown color.
The 1st session may not clear (It may differ not much) because it's very dense in pigment. You need to give them the information to your client to understand in this case.
In the 2nd session, you will see the difference clearly. In some cases, it may be more that 3 sessions. If the pigment color is very dark and dense. (Multiple treatments are generally required.)
♦ ️ Use this picture to explain to clients to understand from the very beginning.
My clients…Thank you so much everyone for visiting me.
Thank you for choosing to trust our product.
I described and give information in this video.